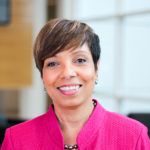 Suzanne E. Kellar-Porter
Senior Vice President, Client Services
Suzanne leads the team that serves as our clients' point of contact and internal advocate throughout the Company's operations. This department also coordinates the resolution of business issues on an ongoing basis, and leads new client implementation efforts.
Prior to joining the Company in 2004, Suzanne was in several operational and management roles at a major health insurer. Suzanne attended the University of Kentucky.